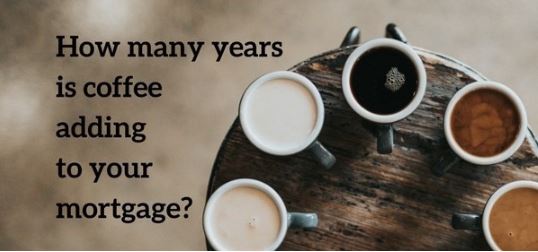 Is your coffee habit adding years to your mortgage pain?
It's smooth, it's delectable, and it might just be adding years to your mortgage. The culprit? Your daily cup of joe.
A morning coffee has long been a ritual for many Kiwi's – a ritual that used to take place over breakfast in the comfort of our own homes.
But with the rapid pace of modern life, and the plethora of hip coffee options available around our workplaces, more and more Kiwi's have succumbed to the lure of the take-away coffee.
This might seem innocent enough, but those coffees really add up.
By finding an alternative, you could shave years off your mortgage and save thousands in interest repayments. Don't believe us? Read on.
But I love my coffee! What are my options?
We've had a look at the relative cost of different coffee options, both on a monthly basis and over the course of five years. The results may surprise you.
Option 1: Takeaway Coffee
Regardless of whether you're getting a long black, latte or cappuccino, chances are you're spending at least $5 a day, not to mention contributing to landfill with all the paper cups.
Upfront cost: Nil
Price of coffee: $35/week = $151/month
Cost over five years: $9,100
Option 2: Plunger Coffee
These days the coffee you drink is as much an expression of your personality as it is about the taste.
So why not switch to a Plunger Coffee
For under $100 you can get a classy little table piece that will deliver a perfect cuppa time and time again.
Upfront cost: $60
Price of beans: $5/week = $22/month
Cost over five years: $1,380 how do these costs look ?
Option 3: Capsule Coffee Machine
Oh the joy of a capsule espresso. Just as smooth as your local café, at a fraction of the cost.
The bonus is these days capsule machines also come with high quality milk attachments – perfect for those who prefer their coffee with slightly less bite. However for the environmentally conscious, this probably isn't the best alternative.
Upfront cost: $500
Price of capsules: $20/week = $80/month
Cost over five years: $4,800
Option 4: Instant Coffee
The stalwart of workplace kitchens across New Zealand, a cup of powdered Nescafe might not be everyone's idea of a sophisticated beverage, but when the mid-afternoon slump hits it can really do the trick.
We are talking about budgeting here after all, and there is definitely no cheaper way to get your caffeine fix.
Upfront cost: Nil
Price of powdered coffee: $2/week = $8/month (or free if you can find it in your workplace)
Cost over five years: $480
What is the impact?
Ok, so now we have the basic costings, let's see what these options really mean for your mortgage?
A typcial NZ family in their late 30s, married with two children, and paying off a mortgage with their spouse.
Let's assume this couple lives in the city, where the average new household loan is $350,000 and monthly repayments are $1,773/month, at an interest rate of 4.5%.
Let's also assume they are also both drinking a cup of takeaway coffee per day, so spending $302/month on caffeine.
At this current rate, they will pay off their loan in 30 years at a total cost of $638,583.
How much could they save if they switched from takeaway to another option?
Plunger Coffee would mean a saving of $258/month so the couple could increase their repayments to $2031/month.
This means they could pay their loan off in 24 years, at a total cost of $563,841. That's a saving of 6 years and $74,742
Capsule coffee a couple could save $142/month, meaning the couple could increase their repayments to $1915/month.
This means they could pay their loan off in 26 years, at a total cost of $591,634. That's a saving of 4 years and $46,449 (deducting the cost of the machine).
Using instant coffee instead a couple could save of $286/month which means the couple could increase their repayments to $2,059/month.
This means they could pay their loan off in 23 years, at a total cost of $558,116. That's a saving of 7 years and $80,467.
That's just a drop in the cup! Of course coffee is just the tip of the iceberg.
There are many other techniques you can employ to help pay off your mortgage much faster. If you want to take a look at how much you could save with some extra repayments you can use the Sorted Mortgages Calc. So come pay us a visit and we'll help you come up with a plan that will aim to shave a couple more years off your mortgage.
Disclaimer: The content of this article is general in nature and is presented for informative purposes. It is not intended to constitute financial advice, whether general or personal nor is it intended to imply any recommendation or opinion about a financial product. It does not take into consideration your personal situation and may not be relevant to circumstances. Before taking any action, consider your own particular circumstances and seek professional advice. This content is protected by copyright laws and various other intellectual property laws. It is not to be modified, reproduced or republished without the prior written consent of Finance Matters, which is where this article also appeared.